International Experiential Travel Exhibition
IV edition BITESP DIGITAL from 22 to 24 November 2021

The first event dedicated to Experiential Tourism on Digital Platform
Art – Culture – Nature – Sport – Wellness – Food & Wine – Craftsmanship – Shopping – Mice
Bitesp Digital 2021, the reference event of experiential tourism, will take place on a digital platform, an innovative format at the service of tour operators, to promote their activities and seek new international commercial partnerships, thanks to a very smart event, which increases the commercial feedback because it facilitates participation, increases visibility, avoids travel and saves costs.
The event includes the following Areas:
>> Virtual Exhibition Area with virtual stands for exhibitors
>> Workshop Area reserved only for accredited operators (Buyer and Seller)
>> Events Area with over 50: meetings, seminars, training steps, company speeches.
Digital Bitesp 2021 is completely dedicated to the innovation of tourism products and experiential holidays; it is a winning combination and an important opportunity for the commercial development of tourism.
Today tourists don't look for places or territories to visit anymore, instead, they look for "Unique Experiences to Live".
Digital Bitesp, will be held online on a web platform and there, Italian Tour Operators will be able to meet National and International Buyers, interested in finding new business partners, and lay the foundations for a fresh start in 2021.
This is an important and innovative format that projects us into the future of marketing and promotion of Experiential Tourism, thanks to a digital platform, easy to use and functional that allows live connections in videoconference and dialogues between Buyers, Sellers and visitors, providing to everyone the opportunity to meet and do business, saving additional travel costs.
Digital Bitesp includes two different areas:
Workshop Area, reserved for incoming and outgoing Sellers and Buyers
Virtual Exhibition Area, for exhibitors with virtual stands, accesible to the general public of web users too.
Digital Bitesp Planning
Digital Exhibition dedicated to the Experiential Travel "Tourism to Live"
Cultural Tourism – Food & Wine Tourism – Rural Tourism – Sport & Bike Tourism – Nature and Outdoor Tourism – Adventure Travel – Mice – Team Building – Wedding Destination – Romantic Tourism – Wellness Tourism – Spiritual Tourism – Craftsmanship Tourism – Shopping Tours – Themed Holidays – Seaside – Mountain – Lake – Tailor Made – Luxury Travel – Sustainable Tourism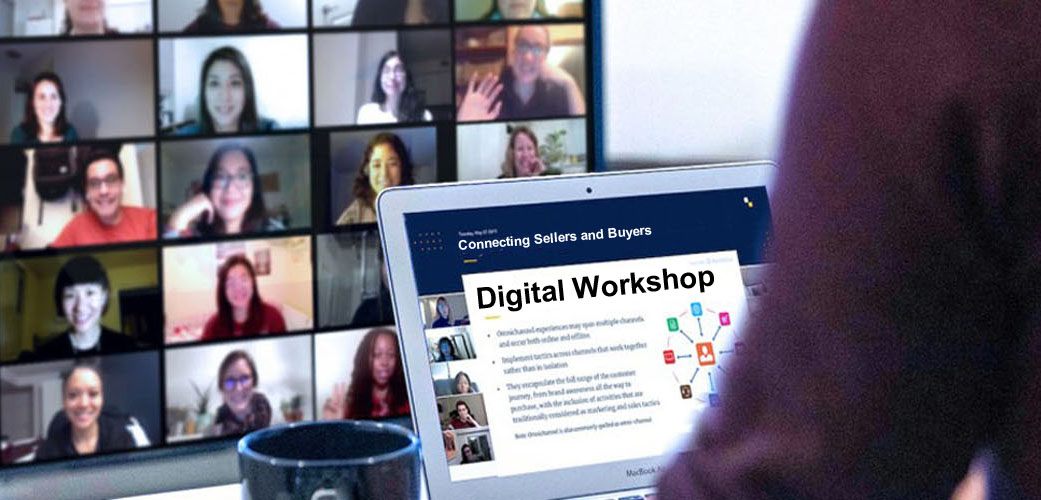 Online workshop between Buyers and Sellers which provides for an agenda of pre-arranged appointments, with the possibility of connecting visually in video conference with the chosen operators, to evaluate and define new commercial partnerships.
Experiential tourism, incoming and outgoing, represents the continuously growing market segment that has joined the classic destination tourism, not only destinations to visit, but unique and exciting experiences to live.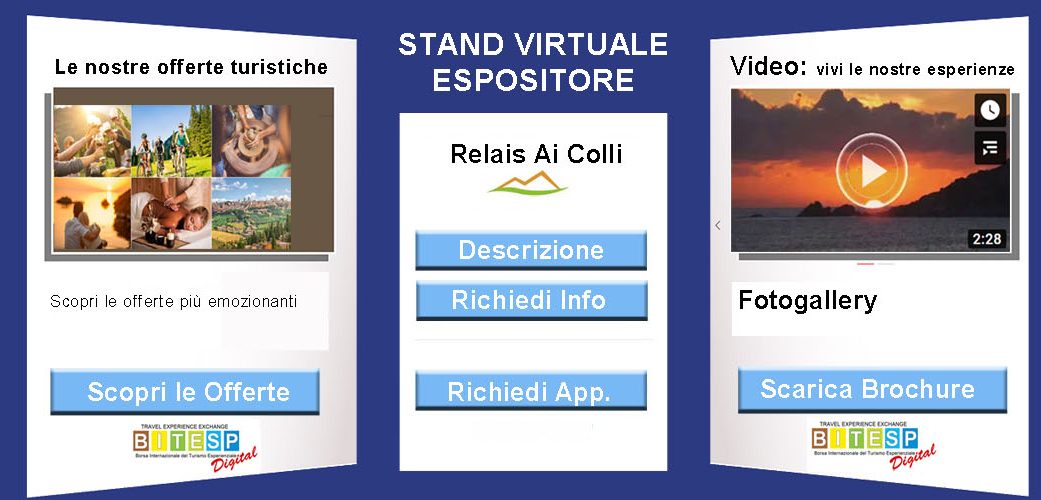 Virtual stands to promote experiential turism videos of exhibitors, advanced features and multimedia supports: logo, banner, video, photo gallery, connection with website, chat, social channels and information request form.
The online event about the Experiential Tourism will take place on a digital platform, organized in every detail and usable in a simple and functional way. To access, each operator or web user must sign in to connect with the PC or other device.
The user, entering the platform, will see an interactive map with all the indications to visit the two different areas of the event, the Virtual Exhibition Area and the Workshop Area.
As in a live fair, in this kind of exhibition area, exhibitors will have their virtual stand, meet visitors and promote their videos of tourist offers. Visitors can freely enter in the virtual stands and view the tourist proposals, with the support of multimedia with videos, photo galleries, request information and schedule live meetings.
Into the online Workshop Area, Sellers will meet National and International Buyers, to find new partners and define commercial agreements about icoming and outgoing Experiential Tourism. The workshop is organized with an online agenda and fixed appointments.
In the Travel Academy area, operators and web users will be able to participate in seminars, conferences and training steps dedicated to the issues of the development of Experiential Tourism.
Why Participate – Reasons and Objectives
Generating Qualified Leads
The goal of our digital event is to provide a technological system that allows you to meet and do business in the field of Experiential Tourism in complete safety and offer a full and immersive digital experience, with a wider communicative potential than that of physical events.
The event on the web, will be able to generate qualified leads of operators. The possibility of contacts with new customers will be widened, widening the target audience and the market segment.
In addition, the digital event will extend the duration compared to the live event, increasing business opportunities and involving, in addition to operators in the sector, even private tourists which use the web.

Searching Partners
The Online Workshop is aimed at finding Buyers and National and International Tour Operators interested in new commercial partners in the field of incoming and outgoing Experiential Tourism. The placement of the event on the web, will increase the number of participants and this is the optimal solution for operators which do not have the opportunity to move due to previous commitments coinciding with the event.
Finally, the technological tools, in addition to having advanced communication potential, allow a higher level of interactivity between operators than live workshops because they multiply the opportunities for contact and networking for all stakeholders.

Promotion and Visibility
The Operators promotion is carried out thanks to the creation of personalized virtual stands with the possibility to promote videos and experiential package sinteract with visitors, through multimedia materials.
Visitors to the virtual exhibition area, will be able to view the description, the photogallery and  they can communicate by chat and send the form to request information.
Thanks to the web, the event can contact thousands of users, unreachable with a live event; exhibitors will be able to attract visitors ensuring an immersive and engaging experience in the field of Experiential Tourism.